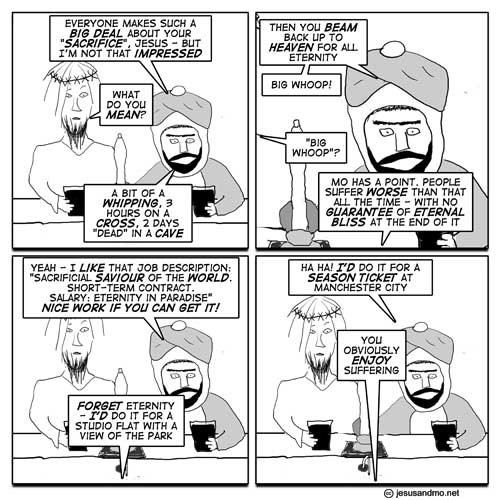 I can't imagine that for an all-knowing god-child, who knows that he'll soon be going to heaven to live it up, knows that he will be worshipped for thousands of years, and feels that he is doing a great service to the entire population of the world FOREVER, this would be considered a sacrifice. It's more of a symbol than anything.
As alluded to in the cartoon, countless other people have endured much worse for much more humble causes. To think that this was 'the ultimate sacrifice' is really just cheapening the idea of both 'ultimate' and 'sacrifice'.
Many christians that I have spoken to, and heard speak on the matter cite the resurrection of Jesus as the cornerstone of their belief, yet there is no credible evidence to support that this ever happened, AND Jesus is definitely not the only religious figure to have been resurrected.
I wonder what makes the fairytale of zombie jesus stand out as more factual or convincing?
Sorry, but I'm just not getting it...
Enjoy your ex-pagan-but-now-usurped-by-a-major-religion holiday!
Worship a rabbit who lays chocolate eggs as you ask "what would zombie jesus do?"